I ran into my neighbours while out with Honey last week and they invited us to join them on a trip to the beach with their dog who Honey gets on with fine (she has told him off as he can be over excited and socially clueless but he takes it like a junior boy dog should take a telling off and I ensure this happens very rarely)
For those who don't know once upon a time Honey was an EXTREMELY reactive and fearful dog who would not only put on a massive show JRT stylee but would also beeline for any thing she even thought was a dog and fight and bite. ANY movement AT ALL required her shouting and screaming, basically she was an almighty mess with a ton of fears/phobias.
So once upon a time she wouldn't have a had a dog "friend" and I certainly wouldn't have gotten in a car with her and another dog and "non family" people but last week I did.
She was a STAR
She did not run off or even think of running off to any of the many many dogs we saw. She recalled beautifully for first half of walk and then became magnatised by the hunting prospect in the dunes, so I'd recall her, she'd come back then end up following her nose back to the dunes so she had to go back on her long line. She did not shout at any dogs at all and when she did have to endure a sniffing from a stiff tailed dog she remained calm and extracted herself from the situation like a pro
.
So for those of you that are struggling with fearful/reactive dogs, stay strong, things can get better with force free fun happy training methods you CAN turn around even "aggressive" dogs.
(Of course I didn't just hope for the best there was plenty of management involved and I did my upmost to give her plenty of distance from her triggers and kept her on her long line when appropriate.)
She REALLY wants to go hunting in the dunes (this was at the very end of the walk)
Awesome photobomb from her pal Oscar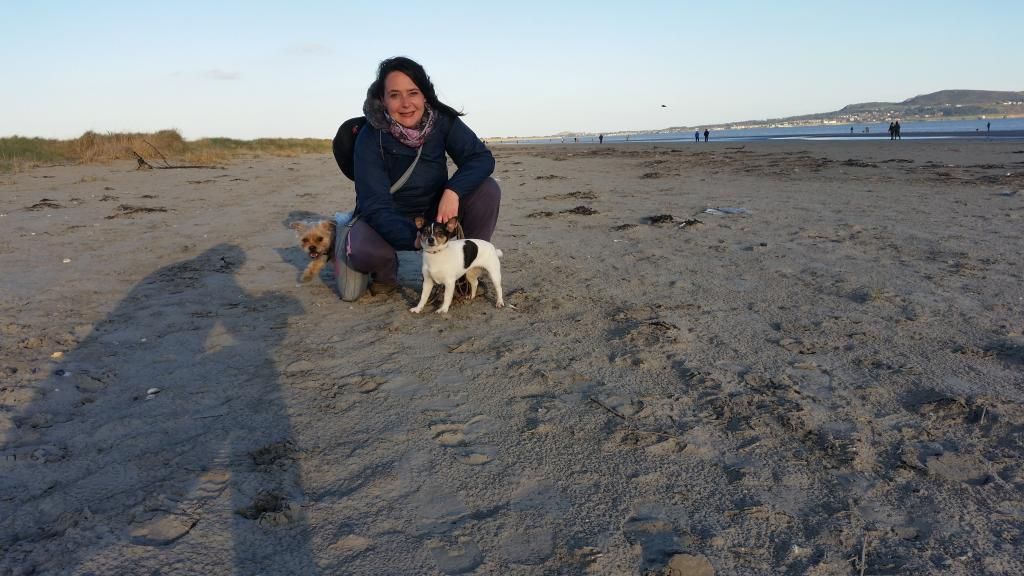 Oscar's owners are some of her very favourite people