This is my foolproof turns out great every time recipe
. The resulting liver cake is very dense and great to handle as it doesn't crumble when you break little bits off a chunk. It can also be cut up very small while still holding together. The turmeric is totally optional and can be left out or you could add some garlic (I often make it with garlic) just blitz the raw garlic before anything else or it won't chop it up properly! I would however always include oil of some kind (olive oil/pumpkin seed oil/coconut oil) as it seems to help the texture.
Basic rule for this liver cake is 1 egg and 100g gram flour per pound (450g) of liver.
This cake is 900g beef liver. 2 large organic eggs. 200g gram (chickpea) flour. Plus 2 tablespoons of golden paste and 2 tablespoons of raw organic coconut oil.
Trim off all the tough sinewy bits and snip through the membrane that goes around the end of the liver. This will stop the liver killing your blender
Blitz until completely liquid then add eggs, golden paste and coconut oil blitz again.
Add flour and mix really well. Pour into a lined oven proof dish/tin.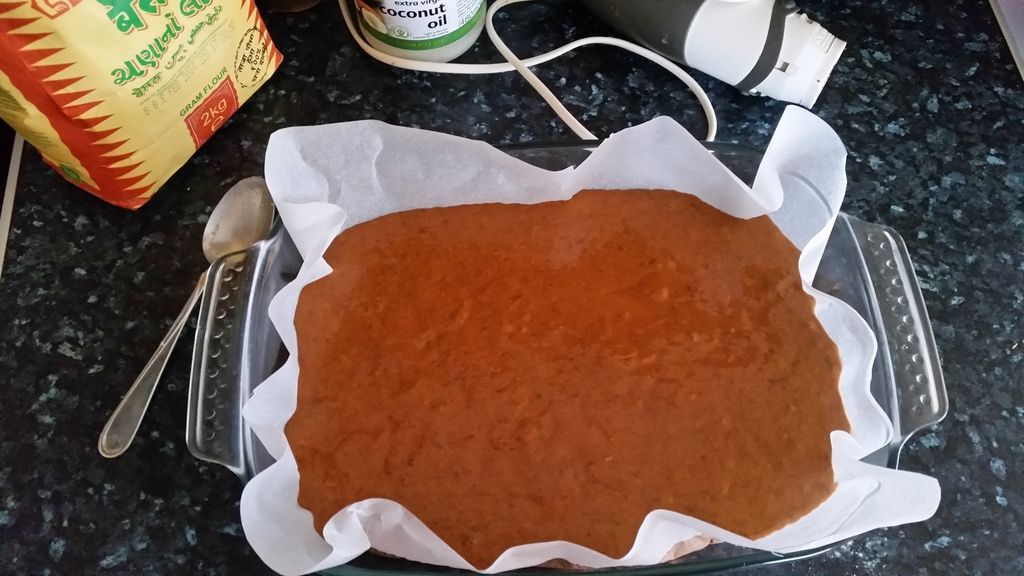 Bake in oven at 150c for 45 mins.
Remove from oven and take the lining paper off.
Dry up any moisture and return to oven at 100C cook for 90 mins turning once until it's a dark leathery brown on both sides.
Cool and then cut to whatever size suits you
It will freeze really well too!