Hey everyone,
Im Sarah, but all my friends call me Sez.
I live in Devon in the UK with my OH Matt and the latest addition to the household; Charlie our 11week Collie x Lab puppy.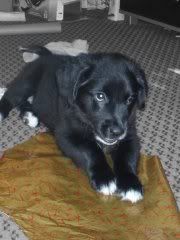 After we had Charlie for a couple only a few days we wondered if we had made a mistake, we had so many people telling us we should training using x y and z. But thanks to the friendly people on this forum, perserverance and the use of positive training methods esp clicker training we now have a lovely little pup.
Sometimes he still drives us a little when he is having his mad moments but we are now know what to do about it. We now enjoying playing with him and walking him which tires him out meaning we then get to enjoy sleepy cuddles with him when we want to relax instead of pulling our hair out with a crazy pup.
We couldnt have done it without you guys, It scares me to think that without the support and reassurance from people on here its likely we would have given him to my Aunty and Uncle (who it turns out are avid C.M fans).
So Thanks, Im sure you will all help us out with future issues (he humped my leg yesterday
) hehe!