Hello all
my name is Theo, I am in my 30s, a lawyer by profession and I hail from Greece. This is my little jewel Kelta who came into my life only yesterday afternoon.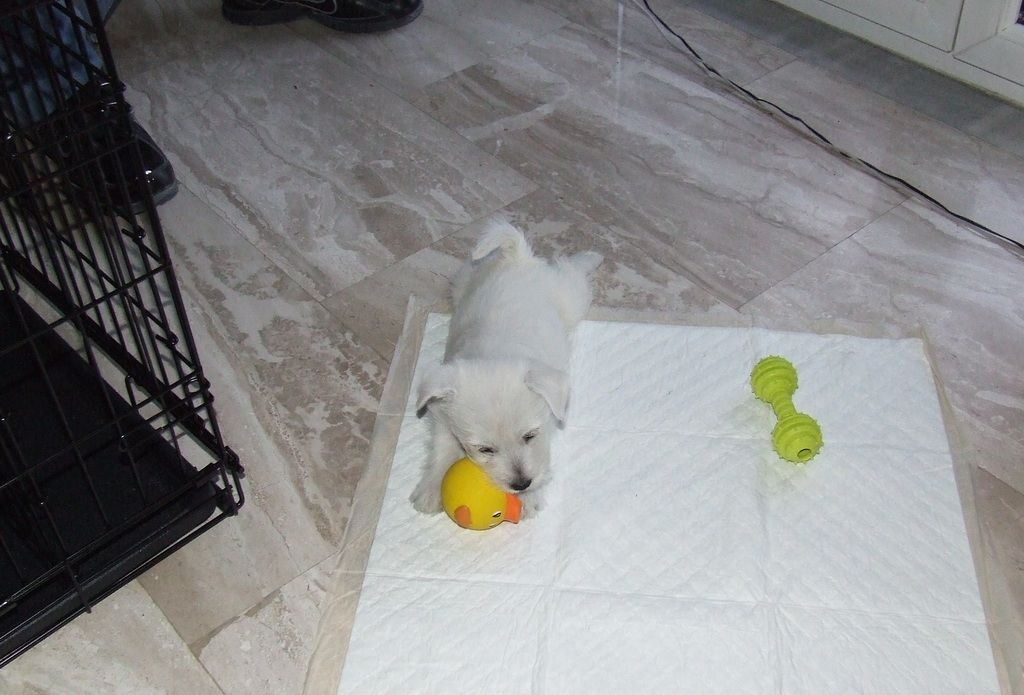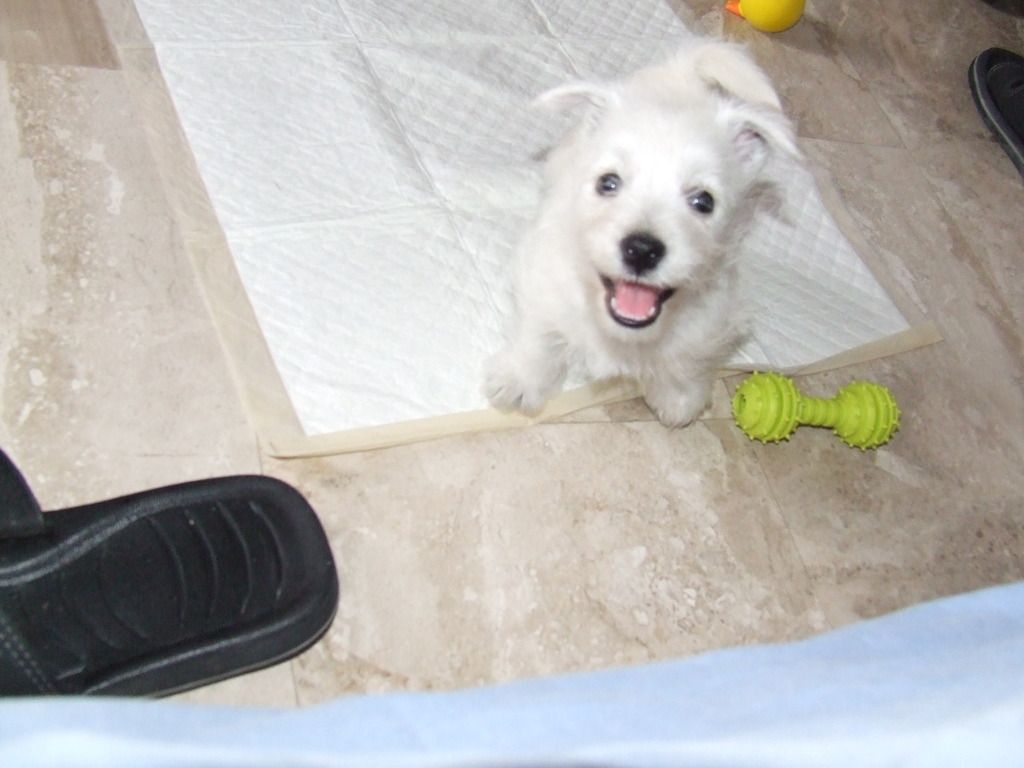 Kelta is Coming
...(shameless Game of Thrones pun for those who watch the series or are fans of the books
)
I went through a serious medical adventure which left me unable to work for the past year but I am now on the path to recovery and slowly getting back to walking and going to the office a few times a week. I have always wanted a dog but first my studies then work and in between other interests such as girls
etc. conspired to prevent me from getting one. On account of the aforementioned medical hooplala I decided that it was now the best of times to finally realize what has been a lifelong dream as a) I would have time to train the dog to the best of my ability and b) the doggie would help me recover as I would be forced to exercise (I think of the whole things as more like her saving me actually but I don't say it often as people might find it too sappy).
For 2 months I read everything I could get my hands on in terms of books and watched all sorts of videos online. There is so much out there in terms of advice for prospective dog owners as well as for training said dogs but it needs to be filtered (that is how I found out about this forum; from watching Victoria's videos. A BIG thank you by the way Victoria if you are reading this). I wanted a dog small enough to live in an apartment but also not a lap dog as the idea was for us to be active and exercise together. I was between a Jack russel and a West Highland terrier and eventually settled on a westie. Hence my little Kelta
Kelta's arrival
My father brought little Kelta to my apartment and at once I saw this was no shy puppy
She set out exploring the place at once and eagerly responded to cuddles and games. Our first night together was uneventful and she did not cry at all and she even managed to pee and poop on the right spot (on some diapers I put on the floor sprayed with some oil to make it more likely that the doggie pees there) most of the times. I can't take her out to the balcony to pee yet as I want to put a plastic netting around the balcony bars so that she is not in danger of falling (I live on the 5th floor of an apartment building). This may be a silly fear; maybe dogs are smart enough not to do such a thing but I'd rather be safe than sorry. This netting will be put in tomorrow morning so then I can start training her to pee and poop outside by taking her out very often. Around every 1 hour during daytime and every 2-3 hours at night if I remember what I read correctly.
She LOVES to eat (really she goes crazy when she hears me opening the food bag) which will be good I suppose when we come to training as I can use that as an incentive for her. Today was our first visit to the vet and he declared her 100% fit and also put us on a puppy food called Science PLan Vet Essentials by Hills. I had read that doggie food should have no grain in it and I don't know if the above has grain in it. I will check online later today.
She is not loving her training crate. I put in a towel and a little bed and toys and I make a point of feeding her INSIDE the crate but she always pops out outside afterwards. Mind you she is not afraid when I close the door (not latch) while she is in there eating. I always open the door right after she finishes though tonight I will try leaving it closed for 30 secs to see what she does. I can coax her inside with food and get her to lie down in her little bed but in 5 mins she gets up and lies on the marble. That may be actually because it's summer and hot and the marble is much cooler than the bed? Don't know. Still I will keep at it. Rome was not built in a day. This is her crate (since I took this pic I have also put a towel on top to make it more like a nest):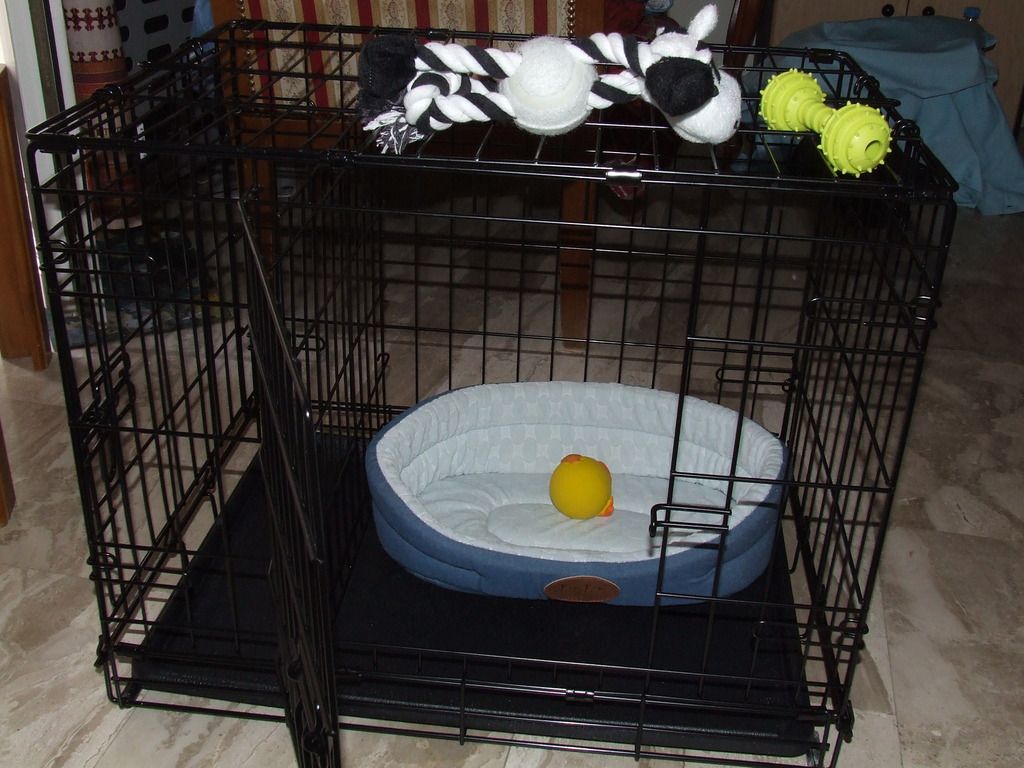 Big points to my little bebe because both in the morning when I left the room to shower and get dressed and just 10 mins ago when I went to the kitchen to eat she did not cry or whine. I was well chuffed to find her sleeping on the floor when I came back from food just now. Of course I make no fuss when I leave, I don't even look at her so as not to make her think this is something terrible.
What else happened since last evening? oh yes! whereas yesterday afternoon and night she slept or sat under bed today she comes wherever I sit whether I am on the bed or the chair on the pc and sits next to me. When I am on the pc she plops her little head on my foot and just goes to sleep there lol I think I am falling in love with the little monster
Thank you for your patience in reading all of the above and nice to meet you all
Cheers,
Theo