Well, I'd like to think of myself as in training...more like I'm practicing with my dogs and my extended "pack..." all positive though! More on them all soon.
Mostly what I want to get out of the way is that I'm 19, from North Carolina (who is really kicking animal-abuse butt right now...4 puppy mill busts in 2 months and 3 big dogfighting busts in the past couple weeks - get 'er done, law enforcement!). I have a low tolerance for stress and thought, for some stupid reason, that a job as a 3D modeler for game companies would be a good idea - hellooooo, you're no good with deadlines and can't deal with stress! What were you thinking!
Anyways, I'd taken a year off to get some time to find a college - also, relax, as this would be my only extended time to do that ever.
I ended up working practically full-time as a nanny for a family I've babysat for for several years. Originally, I was a temporary 'sitter - their old sitter had gone to college and her sister was out of town for a school trip - but when they got home, their Great Pyr was lying on my feet while I read a book. They were stunned! Oso didn't like strangers at all - they'd thought he'd stay in his safe place the entire time. Well, they felt I was a good match, if their dog trusted me, and the kids liked me, and now they're like a second family.
After that, we got a puppy - a German Shepherd from a wonderful, responsible breeder. Here's a picture of her (in her gorgeous collar from
Collar Mania
):
We took her to puppy class, blah blah blah she's a great dog.
She's a touch dog-reactive, but if you see the dog first and get her to sit, she's fine. Just working on when SHE sees the dog first! Haha.
About six months later, my "second family" added an Alaskan Malamute to their family. His name is Amadeus (call name "Ami"), and though he nibbled at first, they found a WONDERFUL trainer who helped him get over people petting him - lots of cheese and hot dogs went into associating people touching his head with good things. He's also dog-reactive, but again, getting better and better. He's to the point where he will sit and wait while a pair of Australian Sheepdogs run circles around us - literally! They don't stay in their yard.
He also heels really well and is great at "checking in" with me. I had a family session with training him in preparation for bringing in their new addition.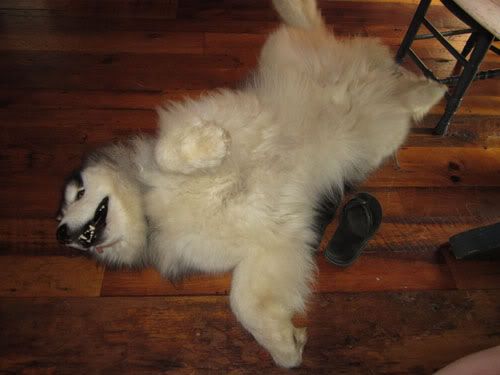 Ami's typical "RUB MY BELLY" pose - this is before he starts flailing around in the sheer joy of having his belly rubbed.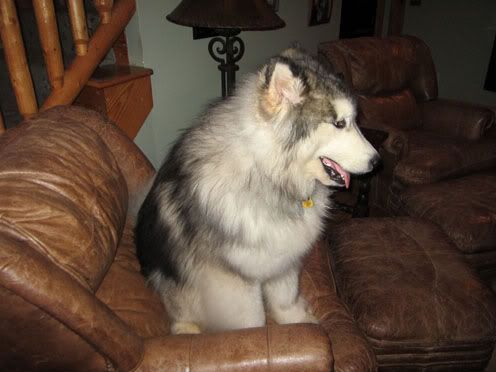 Ami knows you're supposed to sit in a chair, and doesn't get why Zeus (read below) likes to lay down with his butt in the air and his head hanging off the edge.
When Ami was about a year old, they got Zeus. He's an English Mastiff and he is MASSIVE. He had some health problems though - diarrhea since they brought him home (the breeders were great about trying to help with this), which passed onto Ami. With a switch from Purina or some other low-quality food to Science Diet I/D and pumpkin, Ami got better. However, Zeus still has rather loose stools, even on high-quality dog food. He's a year old now, and this is just getting ridiculous. Training-wise, though, their trainer did wonders. Both Zeus and Ami walk loose-leash on harnesses, though Zeus we walk with a head halter as well - at (I think) a year and a half old, he's over 225 pounds - and he's not overweight. As Zeus is still a puppy, we like to be prepared for his out-of-control puppy moments.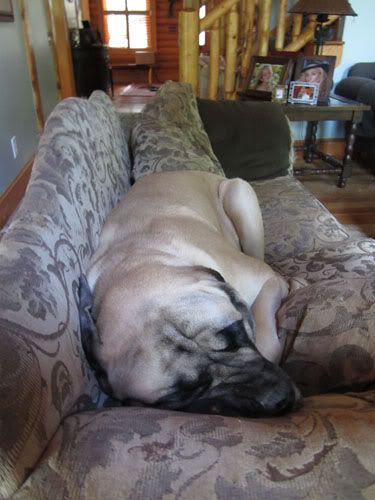 Big dog. By the time he was 8 months old, he outweighed me. Dunno when he passed his "mom" - probably somewhere around 6 months. She's tiny! He's huge! lol
Also, my sister's boyfriend recently got a pound puppy - I'll try to get a picture of her because I'm not sure what kind of breeds Biscuit is made up of. Current guesses include some sort of pitbull type, Carolina Dog, Boxer, Lab, GSD...
Well, anyway. After realizing that the most fun I had all day were the half-hour training sessions my second family had me do with the dogs (they love to practice training, but they don't always have the time, so I make sure the pups remember the basics), I figured that I might be able to do this for a living. Haven't told my parents that that's my intended path, but goodness! I have no idea what to do first!
Also, I have a fun medical condition called dermatographia. In terms of dog training, it means that if the leash is yanked either by myself or the dog, my palms/fingers will swell up and get really itchy. Wouldn't this be a great way to fix those barbarically-inclined yank-and-spank trainers?
Edit: And I can't forget Onyx! He's the best dog ever - at 8 weeks old, coming from a home that just didn't care (they dumped his litter in our back-door-neighbor's yard), he housetrained himself in less than a day with no direction from us (exactly one accident - I know; I was in charge of cleaning them up!), learned all his tricks by copying Mica, our old German Shepherd, and only growled at anyone when he was groggy with medication after being hit by a car and operated on.
The leg he broke that time is now gimpy, and he's really old, but he's doing pretty well! Love the old boy. <3