About as far away as you could get from dogs... my other obsession is Corn snakes! Where dogs are furry and have four legs and need huge amounts of attention...
Corn snakes are smooooooth and silky and have no legs and require very little attention (in comparison, obviously they need some!)...
Sooo... meet the slithery snakey family, including our newest addition, Angel, who has come here all the way from a breeder in Texas!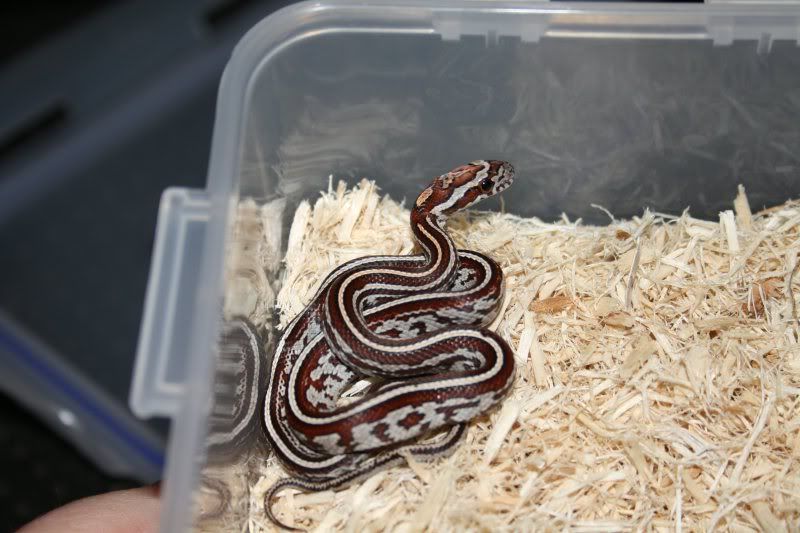 Angel - he says 'What you lookin' at.... Gigantor. Go away I got jet-lag!'...
Angel is very special - hes one of the first cornsnakes to have a dominant gene (other than the dominant genes for colour or pattern) - most cornsnake morphs are recessive meaning a snake needs two copies to look visually different to a wild type. Angel is a Tessera which is a pattern morph... without that morph he would look like this:
Tottie is a normal (some call it 'Carolina' bt thats just an attempt to make it sound more exciting). Shes a normal wild type colour and pattern.
Then we have colour morphs where various different genes that would normally produce the wild type colouration are turned off or in some way made 'louder'.
This is Bob. Bob is Anerythristic - which means she (yes Bob is a girl. Its short for Kate... and if you don't get the joke you need to watch Blackadder) has a gene that turns off a lot of the red pigment leaving a greyish tan and black snake.
Next up is Claypole, hes a Ghost, which is a combination of Anerythristic, like Bob above... and also Hypomelanistic so the natural red and black is reduced giving a pinkish brown colour.
This one is Pt (pronounced Pete) - his morph is called 'Platinum' (the combination morphs tend to get 'pretty' names according to their appearance) because he is a combination of Anerythristic (type A), Charcoal (anerythristic type b) and Hypomelanistic. In laymans terms then hes got three genes that have an effect on the normal colouration, the Anery and the Charcoal turn off the reds/tans... and the Hypomelanism reduces much of the black pigment, leaving a very blueish grey snake.
This very yellow girl is 'Butters', so called because I was having a very unimaginative day and her morph is 'Butter'. Butter is a combination of two genes, Caramel which on its own gives you a very caramel coloured snake, and Amelanistic, which completely removes black pigment (unlike Hypomelanistic which just reduces it a lot). As an adult Butters will be very very yellowy.
Finally this is Fluffy - ironically named because shes very VERY fiesty and bitey!
She has only one colour morph - Hypomelanism which reduces black, BUT... she also has a pattern gene, shes a Motley which varies from increasing the normal saddles a bit so they join, leaving the background colour as a dot between the saddles, to its maximum expression here, as a long thin pinstripe down her back. There is another related gene called Stripe which looks very similar but when you compare a Motley 'stripe' to a real Stripe they do look different.
The interesting thing (if you like snakes, i appreciate this is probably really boring if you dont!) is that the Motley and Stripe genes both also have an effect on colour in that they reduce or remove black - in the adult snake this means that often the pattern bleeds and fades into the background colour and as you can see from the photo, although Fluffy is Hypomelanistic... and so should have SOME black on her, she has none as the Motley gene has removed it.
This is where the Tessera is so exciting for cornsnake geeks - because not only is Tessera dominant (only need one parent to have it to breed more!) but the stripe is clearly defined by a black border which looks really really pretty!
I really like keeping snakes, despite the downside which is keeping mice. You can buy frozen mice to defrost and feed to your snakes but the ethics of this for me, do not sit well. The mice are intensively farmed and killed in unpleasant (though legal) ways which I am not happy about, so I breed my own and know they had a good, if short, life and a quick and humane death (they are NEVER fed live!) and of course I know my snakes are getting the best and freshest diet possible.
Soooo... whaddya all think? Yuck? Oooh!.. 'argh nooooooooo snakes on a forum..'.... 'Emma. You are insane.'
*(I'll have a few more soon too if anyone wants to see them when they arrive.... a Citrine and a Golddust)