5 Cold Weather Activities for Dogs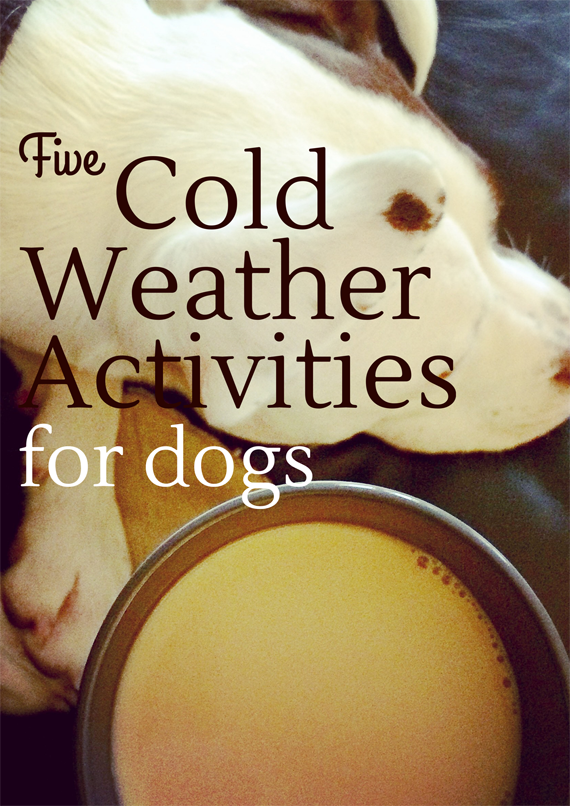 Winter in Minnesota can mean week upon week of not too many long walks or trips to the park with the dogs. Especially when you have two short-haired mutts who shiver when the temps hit below freezing!
Not sure about yours, but our dogs let us know when we go even a single day without a good, long walk or run. There is an obvious abundance of built up energy. So how on earth do we make it through winter without our dogs (and quite frankly, ourselves) losing their minds?
Here are five ideas for entertaining our four-legged friends through the cold months:
1: Enrichment toys!
Think KONG, wobble balls, treat dispensing toys, puzzles, etc. These will provide a challenge to your dog and also reward them with a tiny treat when they figure it out!
2: Training
Whether at home or in a training class, winter months can be a great time to practice with your dog! Stimulating your dog's mind can wear them out more than you'd imagine. This can be a fun time to test out agility, flyball and other activities!
3: Treadmill
You know you're the dedicated dog owner when you have invested in a treadmill - solely for your pooch. A little training and you'll be on your way! This is an excellent solution for exercising when time or weather is an issue.
4: Indoor Dog Parks / Dog Friendly Stores
Dog daycares and indoor dog parks are popping up more and more; a simple Google search for an indoor dog park might have you surprised to find one in your area. Also check with local doggy daycares or training facilities as many offer open play times or private play times (gather a few friends and have a playdate!).
Another idea is to take your dog on a mini outing. Make it a date and visit your local dog-friendly pet store, work on some training while you're there, pick up a bag of treats or a new toy and you'll have one happy pup!
5: Bundle Up!
Sometimes we just have to bundle up, protect ourselves (and dogs) from the cold and have fun! Consider purchasing Musher's Wax (or booties) for those with sensitive paws. Snowshoeing, hiking and even skijoring (if you're more adventurous than me) can burn the cals and make for a day filled with adventure.
And of course there's always one of my favorite things to do: cuddling up on the couch with a cup of hot cocoa and embracing the warmth and comfort of having a dog by our side.
What are your favorite ways to keep busy in the winter with your dog?
*Also a fun activity: five simple dog treat recipes!
Stop by and visit me on LolathePitty.com for dog treat recipes, tips, and more!
---
---
JOIN THE CONVERSATION
Advocating for Animals – Victoria and Holly are joined by actor and animal activist, Peter Egan to discuss dogs, moon bears and...
Victoria is joined by dog behaviour expert and a driving force behind the UK Dog Behaviour & Training Charter Andrew Hale to...
The rescue of 180 Chihuahuas sparks a larger conversation on how to transition dogs from crisis situations into homes.